Niclas Hedell gives his solution to the third tree puzzle he posed last week, and we ask a puzzle about sums of numbers.
Here is the diagram we promised showing how Niclas' solution works.
First off is my solution: one can easily use the rope to find the midpoint between the two trees, then use one end of the rope as a compass to trace out a circle as shown. Any tree on this circle will form a right triangle with the two original trees

Niclas kindly pointed out there may not be any such tree!
The Swedish military intended this solution, which may be quite an ancient trick: fold the rope into eighths and form a 3:4:5 triangle as shown. Sighting down the leg of length 3, we can find a third tree.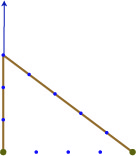 As elegant as this is, we have not accounted for the width of the trees, which may be substantial in a real forest. Niclas' solution is to construct, with a little effort, an isoceles triangle as shown at left below…

… and, after marking the apex of the triangle, untie one end of the rope and pull it straight out. Voila! A right triangle!
(But what geometrical mission was the Swedish military up to?)

Standard Podcast
[ 10:17 ]
Play Now
|
Play in Popup
|
Download