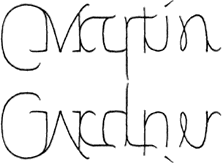 Martin Gardner died this week.
One of his books is on my coffee table. This is not a coincidence, there is always one of his books on my coffee table.
Many of my puzzles have come from these books.
I know him as the greatest collator and populiser of math puzzles, but of course his talents went far beyond this.
Rather than try to do my own second-rate obituary I will just point you at some links.
Scientific American, for whom he wrote for 25 years. http://www.scientificamerican.com/report.cfm?id=Martin%20Gardner,%201914-2010
Make your own Martin Gardner Flexagons here, http://www.youtube.com/watch?v=4DETMhTC0H0.
The Daily Telegraph on his deconstruction of Lewis Carroll's Alice books, http://www.telegraph.co.uk/news/obituaries/culture-obituaries/books-obituaries/7765184/Martin-Gardner.html
He wrote over 70 books. Nothing I can say can begin to encompass his long and amazing life. He is someone you need to discover for yourself.
He is already missed.