Another pursuit puzzle:

Standard Podcast
Play Now
|
Play in Popup
|
Download
Three crazed, robotic professors (or, if you prefer, "spiders") try to chase down a psychic, but slightly faster student (the "fly") along the edges of a tetrahedron. It's easier, perhaps, to draw it out in the view at right below.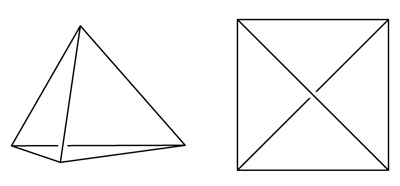 Is there a strategy that allows the professors to catch their prey?
Wait a sec– did we say the prey is SLOWER? Obviously one fast hunter can chase down slower prey, even if the prey knows exactly what's coming…
Wait another sec– isn't the point that the professors are morons and robotic? Maybe we DID state the puzzle correctly.
Long time listeners know it wouldn't be the first time we'd inadvertently added a "meta-puzzle", namely, to figure out what it is we'd meant to say!! Thanks Byon for pointing that out!
(PS Don't forget the spoiler tag if you post spoilers in the comments!)
(PPS Apologies: our policy of holding back solutions sometimes gets the order of the comments pretty scrambled)