Kyle and Chaim finally get back into the studio!

Standard Podcast
[ 11:08 ]
Play Now
|
Play in Popup
|
Download
We first pose a quick question: If you drive fifty miles in fifty minutes, must there be some ten minute interval in which you drive exactly ten miles?
Of course there must — mustn't there? Well prove it!
Our main feature this week is an interview with Michael Breen, from the American Mathematical Society, who came and hosted a game show "Who Wants To Be A Mathematician!" About a hundred high school students from all over northwest Arkansas came to cheer on their classmates; Kyle Strong of Har-Ber High in Springdale came in first, winning $1250, and Karan Batra, of Bentonville placed second with $250.
Our interview includes a few sample problems… I guess we shouldn't list too many of them, in case Micheal wants to recycle them! Mike's also responsible for the great series of Mathematical Moments posters— check them out!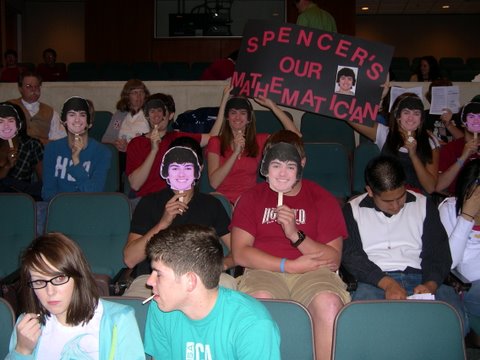 PS: We opened with the Up To One Million Dollars In Prize Money May Be Given Away gag… Always fun!